Managing resources at your fingertips
Manage your activities anytime and anywhere. Whether it's a hotel spa, wellness institute or beauty studio; with the mobile, web-based software "sense." designed by TAC, you take the next step towards serving your guests better.
No local installation or additional apps are required to use sense. As long as you have Internet connection, you can use sense. securely and manage your to-dos continuously.
Whether Smartphone, Tablet or Desktop: The Responsive Design adjusts optimally to the resolution and size of the display used.
The functionalities are designed to be user-friendly and efficient on all devices. Different graphical reservation views can be set up for each user for even more convenient handling.
Increase your sales with online appointment reservations. Appointments booked online are transmitted and displayed in real time in sense.
Interfaces to all modern property management systems (PMS) such as Opera, Opera Cloud, Protel and Protel IO guarantee an ideal integration from sense. into your existing IT infrastructure.
sense. at home in your world
sense. is the optimal solution for businesses with one or more treatment rooms, as the requirements range from the creation of services to the billing of treatments and packages.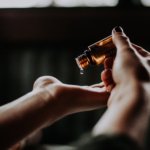 Denise & David Meyer
Hotel Kessler-Meyer
We are a family-run four-star superior hotel in Cochem and set a high value on personal customer service. The cloud-based TAC solution "sense." helps us in this area and many other daily to-dos. "sense. is clearly structured and intuitive. Planning bookings, editing treatments or updating guest information can easily be done. We get great support from TAC and the team at all times.
Current reservation plans can be viewed by employees at any time and appointments can be moved, edited or cancelled on the fly simply by using drag & drop. In addition, courses, packages and medical treatments are managed in sense.
Allocation of employees, rooms and other resources

Utilization and productivity statistics

Economically optimized date proposals according to individual criteria
The touch-optimized operation enables a quick check out process for products, services, gift certificates and prepaid cards. Invoices and receipts can be exported in various formats and printed directly from the tablet or smartphone.
One billing process for services from different departments

Billing for spa services via hotel rooms and various other payment methods

Printing of multilingual and collective invoices
Add memberships, categories, payment methods and rates to your guests. Different variables such as discounts and contribution forms can be mapped in sense. With additional comments you know everything important about your guests for offering a 1A service.
Create, print and cancel contracts

Extended guest file for members

Pricing based on membership
Know more about your members.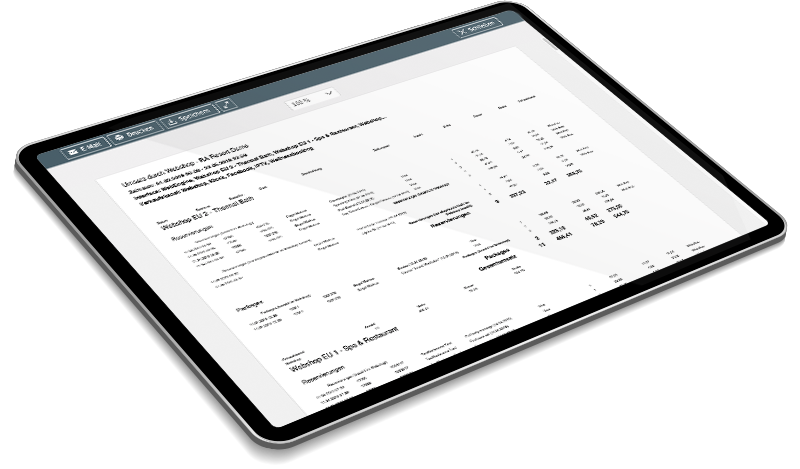 Various reports provide information about practically all processes in your company; you receive continuous information about departments, sales staff and employees. With report routines, reports are automatically sent by e-mail at desired intervals.
Different reports such as capacity utilization and treatment sales

Different formats (e.g. .pdf, .rtf, .xlsx and .csv)

Sales statistics per employee
Clearly and unmistakably.
Web Reservation & Webshop
Pick up your guests where they already are – online. Our Webshop integrates products and gift certificates sales, appointment bookings and much more. Because of its modular structure, you can decide which features you want to offer your guests online.
All appointments booked online are immediately transferred to sense. and double bookings are directly avoided.
Appointment bookings and packages

Products, gift certificates and tickets

Course Management

Partner Area
Setting digital standards.
Fair prices for a fair range of functions. The monthly costs for sense. are calculable. You save high installation costs and also profit from any software updates included.
Depending on your requirements for your resource management software, we offer two different packages. No matter what you decide: you can always count on our 24/7 service package.
Reservations Calendar
---
Membership Management
---
Billing and POS
---
Reports and Statistics
---
24/7 Support Hotline
Reservations Calendar
---
Membership Management
---
Billing and POS
---
Reports and Statistics
---
24/7 Support Hotline
---
Web Reservations
---
Web products and gift certificates sales